Members: Isaac Slade, Joe King, Dave Welsch, Ben Wysocki,


It's been a whirlwind couple of years for The Fray, the Denver-based quartet. Formed in 2002 by Isaac Slade (vocals, piano) and Joe King (guitar, vocals), The Fray owe all of their early success to their organic, grassroots beginnings. Joe and Isaac were former schoolmates who bumped into each other unexpectedly, and one thing led to another they started writing songs together. The songs were catchy enough to attract two of Slade's former band mates drummer Ben Wysocki and guitarist Dave Welsh who soon joined, completing the bands lineup.

To find out more about The Fray, the beginning of the band, and the meanings of your favorite songs, check out the biography on TheFray.net.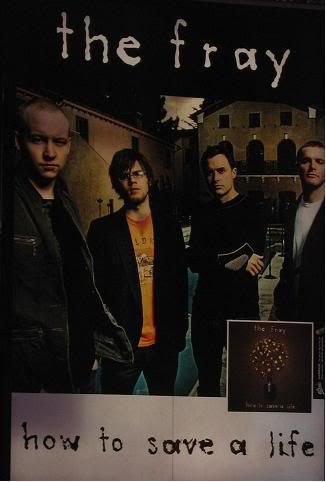 Denver-based band the Fray was formed in 2002 by Isaac Slade (vocals, piano) and Joe King (guitar, vocals) when the two former school friends met up again in a local music store. They soon began regular two-man jam sessions that led to writing songs and devising a style pitched between the arena-friendly style of U2 and the authentic rock of bands like Counting Crows. Rounding out the lineup with two former bandmates of Slade's drummer Ben Wysocki and guitarist Dave Welsh, the Fray began playing shows in the Denver area. Their popularity grew quickly and their first demo recordings became local radio faves and the band was voted Best New Band by Denver's Westword Magazine. This all led to them being signed by Epic Records in 2004. Their debut album, How to Save a Life, was released in September of 2005. ~ Tim Sendra, All Music Guide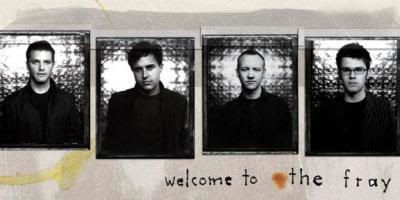 The Fray is a four-piece piano rock band from Denver, Colorado. Formed in 2002 by schoolmates Isaac Slade and Joe King, the band released their debut album How to Save a Life in 2005. The band is best known for the song "How to Save a Life", which charted in the top three of the Billboard Hot 100 and was also a top 5 single in Canada, Australia, Ireland, Sweden, and the United Kingdom. The Fray also found national success with the song "Over My Head (Cable Car)", which became a top ten hit in the United States and Canada. How to Save a Life was certified triple platinum by the Recording Industry Association of America and was also certified platinum in New Zealand and Australia.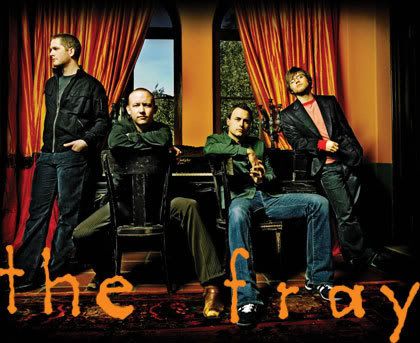 BIG NEWS(12/17/04): the fray just signed a deal with Epic records. Currently the band is heading to the studio for several months. Major label debut release date hopefully late summer/early fall 05'

-NOW AVAILABLE: Listen to "Cable Car" which is now in regular rotation at ClearChannel's 93.3 KTCL.

-To purchase a cd for $9.97 https://www.cdbaby.com/cd/fray

mind blowing: cascading melodies, intricate arrangements, flawless falsetto and, best of all, stunningly
well-written songs (think Lifehouse on a Starsailor/Coldplay kick).
-- Dave Herrera, Music Editor, Westword, October 16, 2003

The Fray is actually fifty times more listenable than Coldplay Honesty bleeds from [Reason]. The vulnerability is palpable. The tunes have a pulse-like dynamism to them, a rawness that reeks of everyday
cataclysms, of solace sought in song.
-- Jason Heller, Westword, February 19, 2004

In less than a year, the Fray has gone from being virtually unknowns to the top of Denvers A-list. In October 2003, the music editor of Westword, Denvers biggest alt-weekly, stumbled across a rough mix of their studio work, loved it and dropped a mention in his weekly column.

Since then, in no short order, the band has been tapped by Westword as Denvers best new band and chosen by its readers as the areas best rock band; been invited to perform live in KBCOs famous Studio C and on KQMT; and finally, had Some Trust, a cut from the Frays Reason EP, was placed on the new release rack and tested for regular rotation on Clearchannels 93.3 KTCL.

So, sho is the Fray and why all the fuss?

The Fray was formed in the spring of 2002 by Joe King and Isaac Slade, schoolmates who grew up together in Denver and even sang in the same school choir. Several years after graduation and following stints in various local bands, King and Slade started collaborating informally. Before long, the casual sessions led to the formation of the Fray.

Guitarist King and Slade who plays piano both share lead vocal and songwriting duties. Although we started working on our songs separately, says Slade, most of our new songs are true collaborations.

The Frays work, both on stage and in studio, has generated an accelerating buzz unlike anthing Colorado has seen before. Word of mouth has gotten people to check them out and once they do, the reaction has been overwhelmingly positive. As Westwords music editor Dave Herrera wrote when he first heard their music, Moments like that remind me why Ive spent my life searching for the sounds and people that move me.

The Fray recently headlined Boulders storied Fox Theatre and Denvers Gothic Theatre. Bolstered by new recordings, produced at Coup Studios in Boulder, label execs on both coasts are expressing interest in the band. The Frays tight arrangements, haunting melodies and evocative lyrics result in a sound that is extremely polished by any standards.